Obama Approves the Final Implementation of the
Wanta-Reagan-Mitterrand Protocols
Reference "Inward Remittance"
by Tom Heneghan

International Intelligence Expert

Sunday August 8, 2010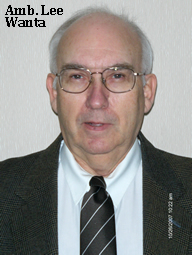 American Patriot Ambassador Leo Wanta, one of the bravest men in the world
UNITED STATES of America -
It can now be reported that President Barack Obama has approved the final implementation of the Wanta-Reagan-Mitterrand Protocols, reference "Inward Remittance". See below:
click url to enlarge


By Marilyn M. Barnewall
I ask the following questions as an interested observer and a journalist of many years. During my 25 years as a banker, my writing career continued with reputable publications like The American Banker, Bank Marketing Magazine, Trust Marketing Magazine, the American Bankers Association, Private Banker International. As an aside, the term "private bank" is not synonymous with "central bank" -- except to journalists who want them to sound the same – but that's a different issue for a different day.

MORE



http://wtsnb.blogspot.com/
Sarah McClendon
From Wikipedia, the free encyclopedia

Sarah Newcomb McClendon (July 8, 1910 – January 8, 2003) was a long-time White House reporter who covered presidential politics for a half-century. McClendon founded her own free-lance news service as a single mother in the post-World War II era, and became known as a model for women in the press and as a vocal advocate of various causes, particularly those of United States military veterans. McClendon was best known, however, for her questions at United States Presidential press conferences, which often ranged from aggressive to brash or blunt.
Quotes from McClendon's "Washington Report" August 1997 (below):
"…Leo Wanta, whose purchase of huge sums in Russian rubles is credited with bringing down the Soviet Union in the Cold War."
"Leo Wanta had worked at the White House, the National Security Council, the Central Intelligence Agency and six other government agencies during his career."
MORE
http://wtsnb.blogspot.com/2010/08/sarah-mcclendons-washington-report.html
THE 27.5 TRILLION DOLLAR MAN FINALLY SPEAKS

http://www.newswithviews.com/Barnewall/marilyn125.htm
Wanta Case Escalates
as Showdown Looms on American Soil, Part 2 of 2


TOM HENEGHAN'S EXPLOSIVE INTELLIGENCE BRIEFINGS
International Intelligence Expert, Tom Heneghan, has hundreds of highly credible sources inside American and European Intelligence Agencies and INTERPOL--reporting what is REALLY going on behind the scenes of the corporate-controlled mainstream media cover up propaganda of on-going massive deceptions and illusions.
http://blogs.myspace.com/tom_heneghan_intel